PGA Championship
PGA Championship 2023: Tom Kim falls into creek, gets caked in mud, remains a delight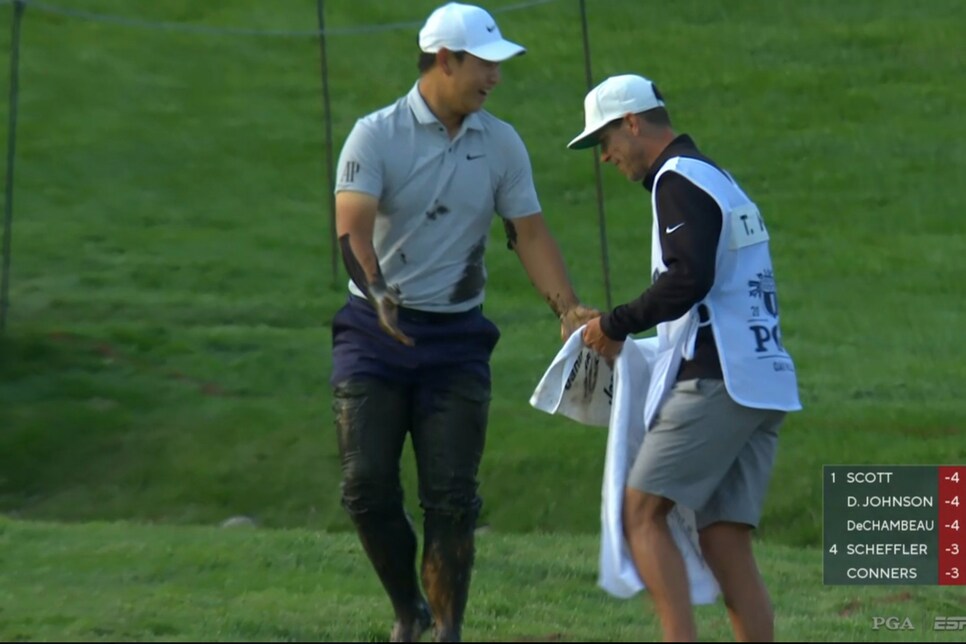 ROCHESTER, N.Y. — You've heard of horses for courses. Tom Kim, however, is a certified mudder.
As the afternoon wave chased the sun on Thursday evening at Oak Hill, the byproduct of a nearly two-hour frost delay to the PGA Championship, the ESPN broadcast was about to segue to commercial break until cameras caught an unusual sight: Kim, appearing to emerge from a creek. As the broadcast stayed with the fledging superstar, it was revealed Kim had actually fallen into mud, his clothes beautifully caked in sludge:
Kim proceeded to jump back into the creek, desperately trying to wash himself off in the middle of his round. He then took his shirt off and changed into a pullover while throwing on a rain suit, smiling at the ridiculous situation he found himself in.
As you can imagine, Twitter—funny crowd, that Twitter—was delighted by what they saw:
After he completed his round (he ended up bogeying that sixth hole, but parred his way in after the mud bath), he checked his phone before being interviewed by ESPN's Michael Eaves.
Kim described to Eaves that he was told his ball might've been playable in the creek, so he tried to head in and check out his lie before releasing "it was pretty sketch" in there. Cameras didn't unfortunately catch him sinking all the way up to his waist in the mud, but we saw the aftermath ... with Kim literally caked in mud from the bottom down. "I hope everyone at home understands, it's a major championship and i'm trying to fight for every shot I can," he said. Kim then admitted, yes, he came back around to the other side of the creek and dipped himself back in the water to wash himself off. He was already soaked, so why not go back in, he laughed. "It was a great experence."
We've said it once, we'll say it again: Tom Kim is a treasure. Also, find a way to get him dual citizenship, preferably in a European country, so we can get that man into the Ryder Cup.
MORE FROM GOLF DIGEST @ THE PGA CHAMPIONSHIP