New wedges
Titleist's Vokey wedge line gets a new addition with the versatile V grind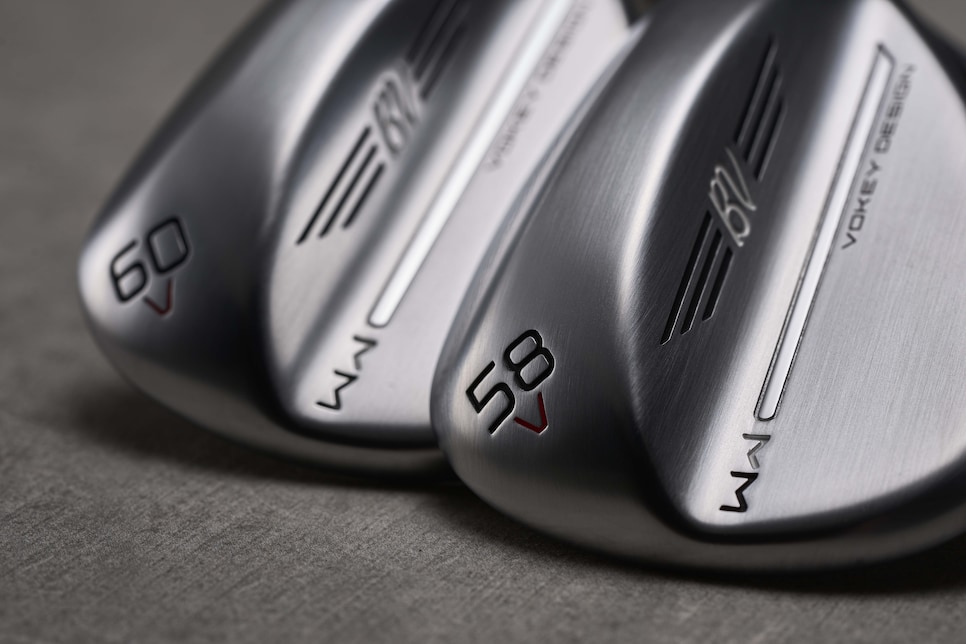 Titleist has introduced another extension to its Vokey wedge line with the addition of the WedgeWorks V grind in tour chrome and raw finishes.
The V grind is designed for players seeking a wedge that provides increased bounce on square-faced shots and enhanced relief on open-faced shots. On full shots, the grind features high measured bounce forward on the sole. Yet when the face of the V grind is opened, the wedge produces increased versatility through heel, toe, and trailing edge sole relief, allowing the leading edge to stay closer to the ground.
"This wedge is ideal for golfers that play in normal to soft soil conditions, as well as on courses where the bunkers have more sand," said Titleist master craftsman Bob Vokey. "It is also ideal for players with neutral to steeper angles of attack who still like to open the face when hitting shots around the green."
The WedgeWorks V grind is visually similar to the SM9 T grind with a narrower forward sole towards the leading edge and aggressive heel, toe and trailing edge relief. The V grind, however, plays to a higher effective bounce than the T grind. According to Titleist, it is better suited to players who have a neutral-to-steep angle of attack around the green and on fuller swings, whereas the T grind is designed for players with a more shallow delivery.
The V grind option contains all the features of the SM9 line, including a center of gravity position in front of the face that assists squaring the clubhead at impact. However, the CG has been slightly raised in the vertical direction by adding weight higher up in the clubhead (which is essentially invisible to the eye thanks to a tapered area at the rear of the toe area).
On the grooves tighter manufacturing tolerances produce a more consistent scoreline edge radius allows for the grooves to be sharper and closer to the USGA limit. The edge radius is rounded so the edge lasts longer. That, coupled with a heat treatment process, helps with spin retention. Micro-grooves are cut between the grooves to add spin on partial shots. The shaft is True Temper's Dynamic Gold 200 and the grip is Golf Pride's 360 model model.
The new 58.10 and 60.10 SM9 V grind models are available May 16 in right-hand and left-hand through golf shops and Vokey.com. Price is $225 per wedge. A number of custom options including toe engraving, stamping, flight line alignment and paintfills are available via the company's WedgeWorks program.