Golf Digest Schools
The secret to reading breaking putts from a top putter on tour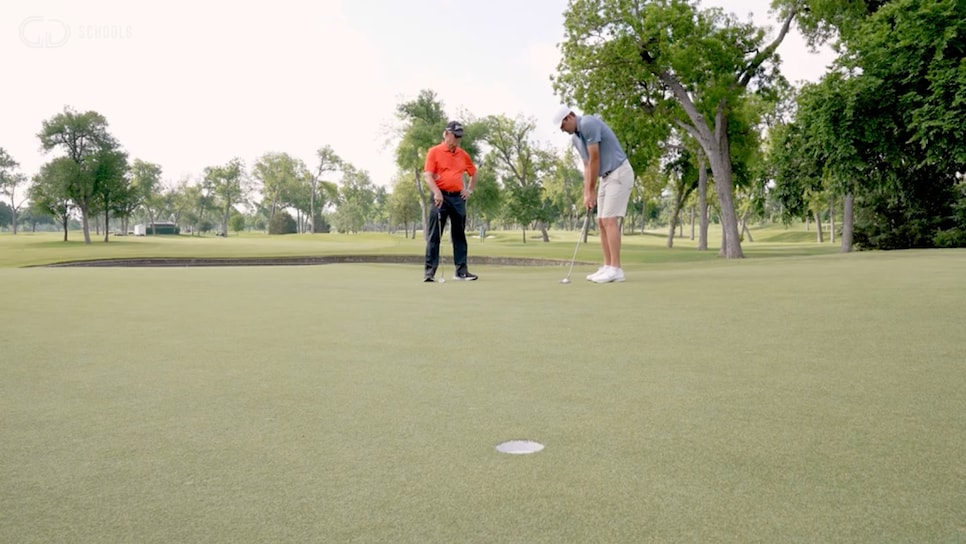 One putt that gives average golfers extra stress is the big breaker, in particular left-to-right putts for right-handed golfers. The problem, says 2020 PGA Tour Rookie of the Year Scottie Scheffler, is that they become so wrapped up in choosing the perfect line that they forget about the most important part: the speed.
"A putt that breaks a lot, it's really more about speed than line, giving that ball a chance to go in," says Scheffler, who since joining the tour full-time last year has posted four top-10s in the majors, including three in a row to close out the 2020-21 season.
Scheffler, much like his good buddy and fellow Texas Longhorn Jordan Spieth, knows a thing or two about putting. Entering the FedEx Cup playoffs, he ranked sixth on tour in Putting Average at 1.717 putts per greens hit in regulation.
The Dallas resident says there are multiple factors that determine the line of a breaking putt, but none more important than speed. To get a feel for speed, Scheffler reads his putts from three angles: behind the ball, midway between the ball and the hole, and behind the hole looking back up the line. From the midway point, Scheffler says you can zero in on the apex, or the highest point of the break, and get a good look at the last part of the putt. Looking from behind the hole, Scheffler says, helps you see how the grain and slope are going to influence the putt as it begins to slow down.
After collecting all of this information, Scheffler looks at the putt again from behind the ball, choosing his aim based on how he sees the entire putt breaking. In other words, he pictures the ball rolling through an area on the green rather than hyper-focusing on a spot. "I'll try to find a point [midway] where I think the ball is going to travel through, and that will be how I'll aim," Scheffler says.
From there, Scheffler walks into the ball with his eyes down his aim line, not the line directly to the hole—and that can be a big difference on breaking putts. "As he walks in, he's all wrapped up in the line of the putt," says his longtime coach Randy Smith, a Golf Digest 50 Best Teacher. "He's not looking at where the hole is so much, but how the ball is going to get to the hole."
Incorporate these green-reading tips into your pre-putt routine, and see how sharpening your focus on speed will help you get your breaking putts closer to the hole.
Watch Scottie Scheffler's routine on big breakers:
Learn these and more putting secrets from tour phenom Scottie Scheffler in "Putt Like a Pro," now available in Golf Digest Schools. In this 18-minute clinic with Scheffler and teacher Randy Smith, you'll learn how to incorporate Scheffler's green-reading strategies into your own putting, from assessing break and playing grain to getting every putt started on line. If breaking putts are giving you trouble, this is one series you can't afford to miss!
"Putt Like a Pro" is one of more than 130 video programs in Golf Digest Schools. Take your game to the next level with instruction from the top teachers and players. And with the new Golf Digest Schools app, you can bring it all with you anywhere you go. Check out Golf Digest Schools, a revolutionary experience in golf instruction.