12 months later …
PGA Championship 2023: 5 signs from last year at Southern Hills that the LIV Golf storm was coming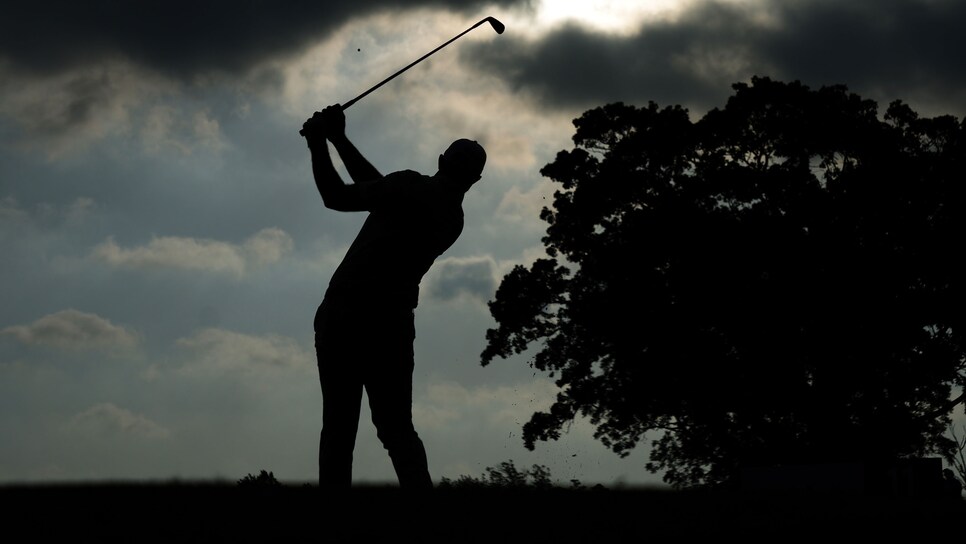 Photo By: Christian Petersen
It would appear hard to believe just now, a year's worth of conflict and bombast, vitriol and derision, ringing in the golf world's collective mind. But when the 2022 PGA Championship played out last May at Southern Hills in Tulsa, Okla., the idea of a "LIV Golf" as a formidable, viable threat to the PGA Tour and the ways of the professional game seemed a bit fantastical.
Granted, the worst kept secret in the golf was about to be revealed to the public, the announcement of a first official LIV event anticipated to come shortly after the conclusion of the year's second major. Yet in the glow of Justin Thomas' charge from seven shots back to beat Will Zalatoris in a playoff and capture his second Wanamaker Trophy, LIV remained a league without players and mostly known for missteps.
However, in hindsight, the future turmoil was hiding there in plain sight. In looking back on the week in Tulsa, there are a handful of winks that the perceptive golf fan could have spotted that signaled the trouble that was starting to brew.
Dustin Johnson's telegraph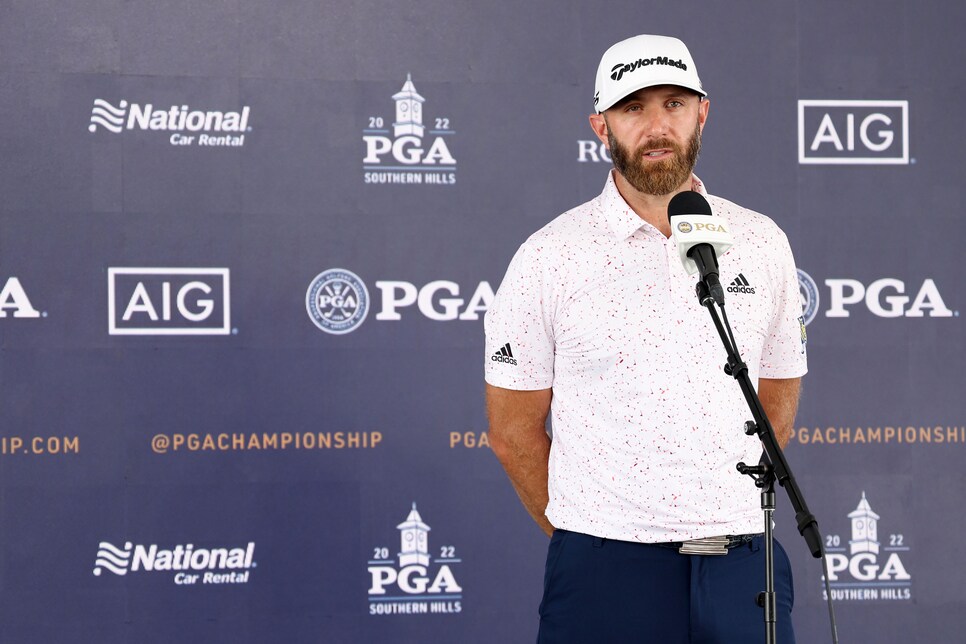 Dustin Johnson's cryptic responses to questions about LIV Golf during pre-tournament press conferences hinted that he might be more serious than he'd previously led golf fans to believe.
Maddie Meyer/PGA of America
Perhaps DJ becoming the "most surprising" initial defector from the PGA Tour to LIV was actually quite obvious. The two-time major winner had made multiple appearances in the Saudi International, winning twice, and didn't disguise that he received a gargantuan offer when asked in February. Meanwhile, his canned PR statement that he was sticking with the PGA Tour (a statement released by the tour itself) following the backlash from Phil Mickelson's "scary motherf---ers" comments didn't exactly scream fealty. Still, while there were rumors, few inside the game saw Johnson jumping, which is perhaps why nobody thought twice in hearing these remarks made Wednesday of PGA week in his response to a LIV Golf question:
Q. In terms of you being someone the Saudi group was very interested in and you made your statements and everything like that in February, I'm curious now as a player, there's been some talk about golf being at a very critical crossroads, how do you see it shaking out?
DUSTIN JOHNSON: I mean, I think golf is in a good spot, and I think what they're doing is … could potentially be good for the game of golf. I'm excited to see what happens here in a few weeks.
DUSTIN JOHNSON: I'll be watching.
Less than two weeks later, Johnson's agent confirmed the two-time major champ was moving to LIV, giving the fledgling league its first big-name, in-his-prime attraction and the promise that more could soon follow.
Yes, Mickelson had been M.I.A. since March—which, we would later find out, was not entirely his choice, having earned a three-month suspension from the tour for recruiting other players to LIV. But the suspension did not apply to the PGA Championship, and Mickelson's agent had originally said Mickelson was registered for the championship. However, Mickelson ultimately decided not to show up to Southern Hills. The PGA of America announced the decision was Mickelson's, and in a statement said "we would have welcomed him to participate."
In a sense it was surprising, Mickelson skipping on the chance to bask in a victory lap. It was the first time a PGA champion has not attempted to defend his title since 2008. That Mickelson played just three weeks later at LIV's inaugural event, along with the following week at the U.S. Open, amplified the belief that Mickelson's absence and subsequent return was used by LIV backers as a marketing ploy to hype the launch of the league.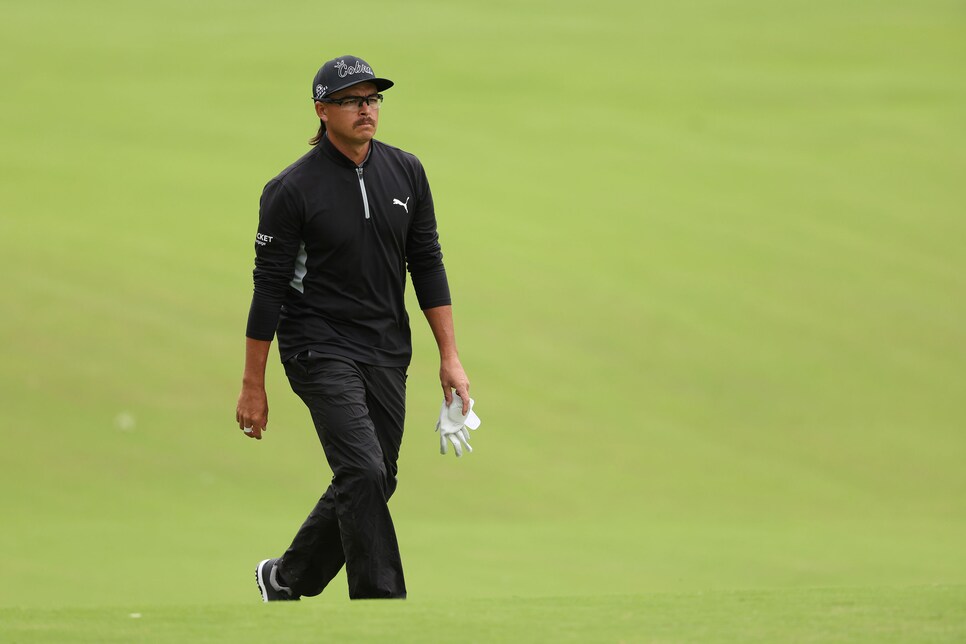 While Rickie Fowler is now firmly behind the PGA Tour, last May he admitted he was seriously mulling the LIV Golf offer.
Christian Petersen
Most of the names that had been attached to LIV Golf, broadly speaking, tended to fall into several categories: Those who were 40 and older; European and International players; competitors who weren't necessarily stars; players with character baggage. Rickie Fowler didn't fit any of those descriptions, which made it surprising to hear him admit early during PGA week he was mulling a move.
"Yeah, I have," Fowler said, when asked if he's received an offer from LIV Golf. "To be straightforward with you guys, I haven't necessarily made a decision one way or the other. I've mentioned in the past, do I currently think that the PGA Tour is the best place to play? I do. Do I think it can be better? Yes.
"So I think it's an interesting position. Obviously, there's the LIV and Premier [Golf League], as well. These tours or leagues or whatever—however you want to classify or call them—they wouldn't really be coming up if they didn't see that there was more opportunity out there. I've always looked at competition being a good thing. It's the driving force of our game. You know, being able to have games with guys at home, that's how I always grew up is competing. I think competition ultimately makes people better, whether it's business, sport.
"So it's interesting, that's for sure."
Fowler has not left for LIV, and that he was at the players summit last August in Delaware signals he intends to stay with the tour. Conversely, Fowler's admission was sign of the storm ahead for the tour. It showed LIV could be more than a knock-off senior circuit, that if one of the tour's supposed good guys could overlook Saudi Arabia's human-rights issues, others players might too. Most importantly, if Fowler—the model for the riches that can be made from the tour's infrastructure for being a good, but not great, player—believed the tour wasn't doing all it financially could for its members, there was an unrealized wave of discontent and frustration ready to crash upon the shores of Ponte Vedra Beach.
UPS drops Oosthuizen, Westwood
Mickelson lost a number of sponsors in the wake of his controversial remarks, but those relationship were severed as much due to the nature of comments as doing business with LIV. But during PGA week we saw there would be ramifications for those associating with the Saudi regime, and not just from the PGA and DP World Tours. UPS cut ties with longtime endorsees Louis Oosthuizen and Lee Westwood, with the former rumored to be making the jump and the latter admitting to asking for a conflicting-event release to play in the LIV London event.
"We value the relationship we've had but make decisions based on what is best for our business," UPS said in a statement. "We will continue to focus on sponsorship initiatives that are important for UPS and consistent with our business priorities. The decision to end our partnership is a strategic business decision that allows us to focus on other initiatives."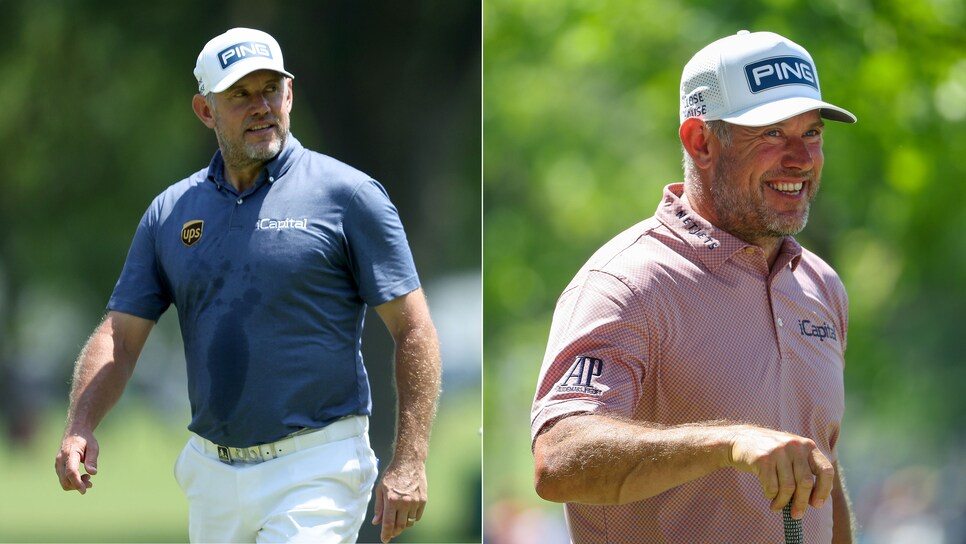 Lee Westwood sported the UPS logo during his practice rounds at Southern Hills, but it was gone when the tournament started on Thursday. (Getty Photos)
UPS has business partnerships with the Ryder Cup, which is jointly owned by the PGA of America and Ryder Cup Europe, as well as the DP World Tour and the Masters, so perhaps this wasn't unexpected. But in the following weeks a number of sponsors ultimately dumped players—including Johnson and Bryson DeChambeau—who jumped to LIV, and the drops underlined the notion that these conflicting-event releases were not envisioned to be one-off dalliances with LIV.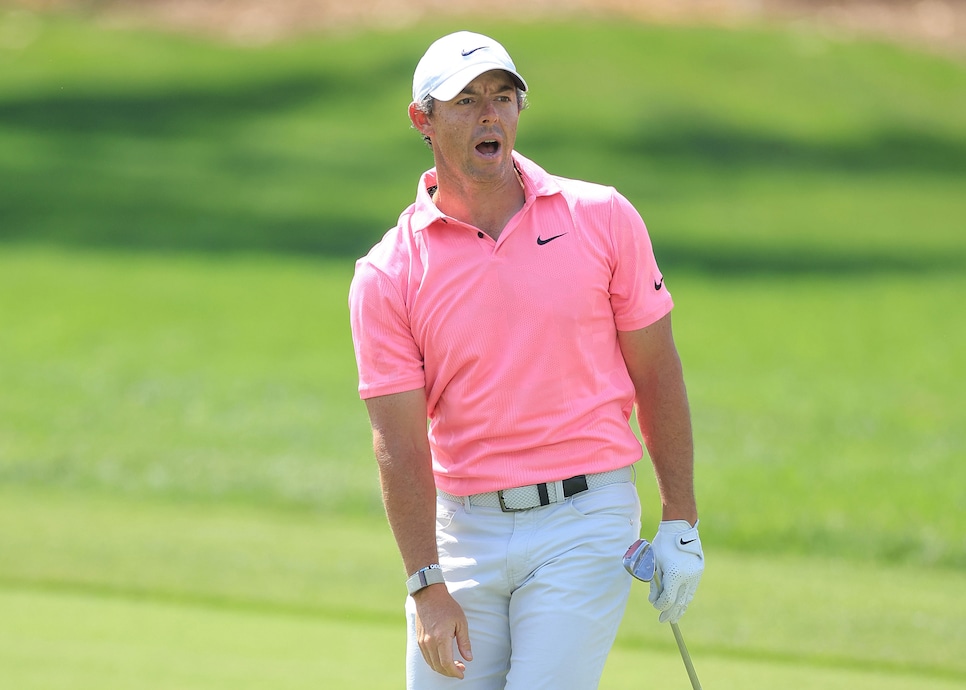 If there was a proverbial read of the room at Southern Hills from the game's stakeholders, it would have been that there remained a general doubt—and maybe indignation—that LIV would amount to anything more than a sideshow. Yet one person who did seem to realize the magnitude of what was on the horizon was Rory McIlroy. The Ulsterman, who had previously proclaimed LIV was dead in the water in February, admitted that those comments "might have been a little presumptuous at that point." But rather than just owning his mistake and moving on, McIlroy made it known he was not going to dismiss the league twice.
"It seems like it's still going. Greg [Norman] and everyone behind it are very determined," McIlroy explained. "I think we're just going to have to see how it plays out. Guys are going to make decisions.
"Honestly it's going to shape the future of professional golf one way or another, so I think we're just going to have to see how it all shakes out."
One year later, those words ring especially true. The future of professional golf remains unclear, but it's a future that's been forever altered by the advent of LIV Golf.