His 15 Minutes
PGA Championship 2023: TV cameras caught him napping at Oak Hill, and he's laughing, too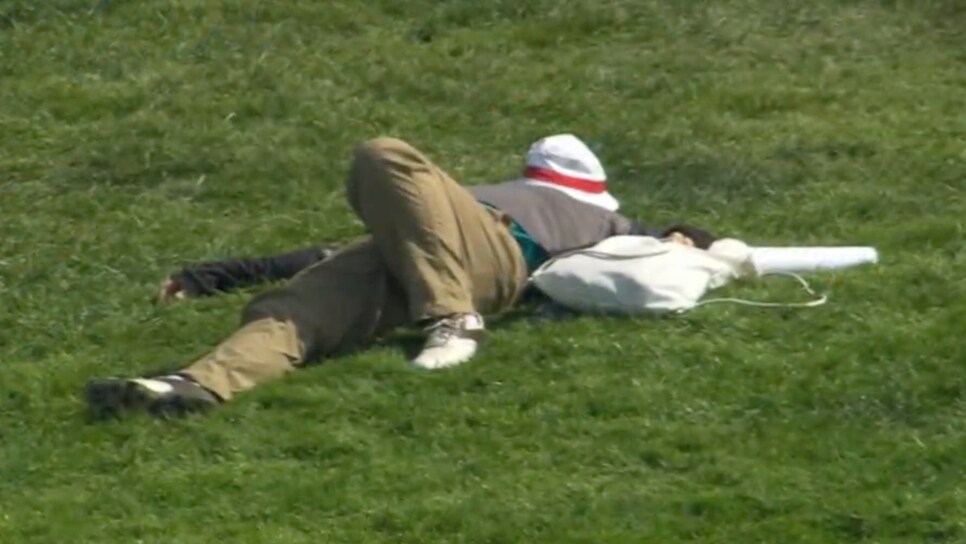 ROCHESTER, N.Y. — If you were watching ESPN's coverage of the first round of the PGA Championship Thursday afternoon, you may have seen the short segment when the cameras found a man napping on the grass by the driving range, wearing two bucket hats. The announcers, sensing some action in a quiet moment, seized on it immediately:
A few minutes later, they found him again, this time treating himself to a snack:
"You sir, you keep living your very best life," Scott Van Pelt said—just before promising to take him out for a garbage plate, a Rochester culinary specialty—and the Internet tended to agree.
Turns out, the double bucket hat man has a name, and it's Andy McWilliams. He's 49, he's a former assistant pro from Glasgow, Scotland, who now lives in Ottawa, and after a long and varied career, he runs the Celtic Golf Centre in Ottawa, which is part pub and part golf hangout with simulators and instruction. After his big day at Oak Hill, his phone blew up, and we were able to contact him after he posted on Reddit Golf in response to a user asking "why they gotta do him like that?" What follows is a condensed interview on a truly singular experience for a man who didn't expect to be in the national spotlight, but handled it about as well as possible.
Digest: You had a pretty interesting day yesterday, huh?
Andy McWilliams: It was hilarious. We came down, a bunch of boys from Canada, and we followed Padraig Harrington in the morning. I don't know if you saw any, but he made three of the greasiest up-and-downs you'll ever see. I mean, if I was Kisner, I was throwing myself off a bridge after playing next to him. It was tremendous. Then we decided to go for a bit of food, and those guys wanted to go back out and catch Rory. But my knee was blowing up. I've been trying to lose the beef, the middle age spread, by doing cardio, trying to get longer off the tee, and I hurt my knee doing Crossfit. So I said I'm gonna go to the range, which I love doing. I watched Pete Cowen. He's English, but he's forgiven as he is a genius. I went over to the putting green and took some videos of the guys putting, I talked to John Graham, JT's putting coach, I used to go to him for lessons back in the day before he got all superstar-ish.
Then I went to sit at the range, and I was in a post-food coma, just started feeling tired, put the double bucket hat over the eyes to make sure you don't get sun-burned, and passed out. Then I got up, and that's when I started getting the munchies and peeled into the Rice Krispie treat.
I have to ask, why did you have two bucket hats in the first place?
I came with one on my head and bought another one there.
OK, so you're eating the Rice Krispie treat …
I woke up starving, and I practically inhaled that. So I think next time I do anything like this, I'll eat with my mouth closed, because that's what everyone seems to be focusing on. So it was kinda embarrassing, everyone's like, "yeah, buddy, you eat like a 3-year-old." And I'm like "Well, to be honest, I didn't think the whole fucking world was watching, you know?"
So we left, and we were in a Chick-Fil-A having food before we headed back over the border, and my buddy texted me, and he's like, "What are you eating?" I said, "what do you mean?" And he said, "well, you're all over TV and you're stuffing your face."
And I thought, "Oh, fuck no."
Then messenger and everything just started blowing up. I got calls from Scotland. I got a call from Florida from a guy who I used to go up with, I don't talk to him much anymore because he's a LIV Tour guy, but he's like "Andy, are you in Rochester?"
What was your reaction at that point?
At that point, I didn't get the whole video. I was just getting screen grabs, and it was not the most flattering. I've actually lost 35 pounds, I've been on medication and a diet and stuff, I've actually lost a bunch of weight, and I saw it and was like, "I'm still a fat bastard!"
I've been posting for months, look at all the weight I've lost! And I'm still fat. So that was fucking soul-destroying. My wife, she can't watch it. She said, "You look like some very bad case, just rolling around there." She says she can't watch it.
And then my buddies, we have a WhatsApp group going, and they were just killing themselves laughing.
And then I get back to the hotel room last night, and we were locked out because our keys were deactivated and I didn't even want to go back down the stairs because my knee was swollen, and I'm just like, "Oh, fuck sake," you know?
Then my buddy told me I was all over Reddit, and that's when I posted the picture.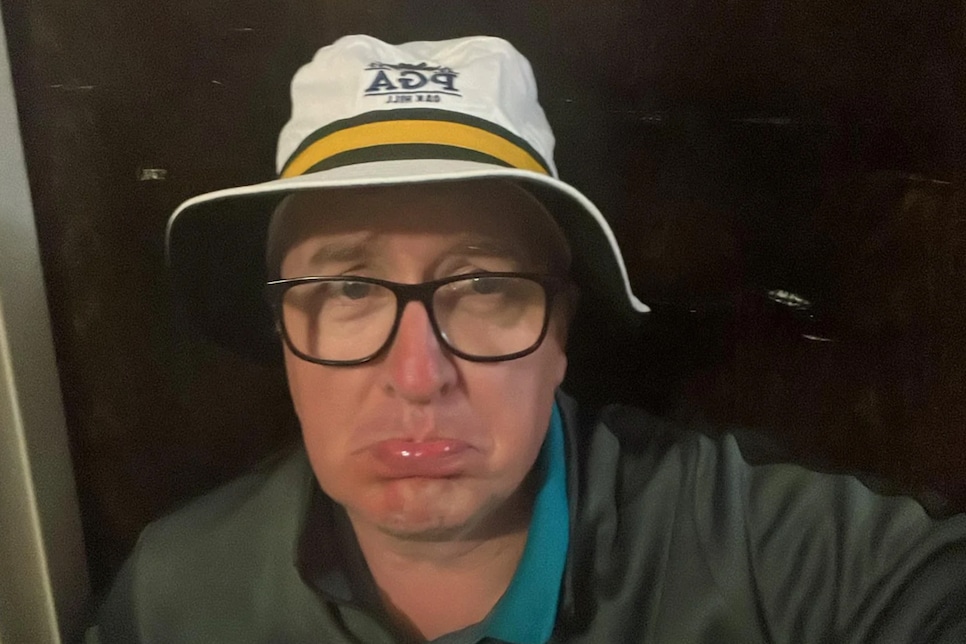 How were the people on Reddit?
My buddy said the comments were hilarious, and I said "are they hilarious in a bad way? You've got quite a dark sense of humor." And he said no, they're pretty wholesome. And to be fair, the people on Reddit were really nice. A couple of guys said, "you eat like a three-year-old," and OK, fair point. But most of them were good.
So now you've had a day to digest it all, what are your thoughts on the whole thing?
I mean, all those years as a young assistant pro, practicing, thinking one day I'd be on TV at the PGA Championship … and it happened, but for all the wrong fucking reasons.
No, but I just wish I'd lost more weight before I was on TV. It was not the most flattering position. I get back to the hotel last night, I had my shirt off and I'm looking in the mirror and I'm like, "Am I really that fat?" You know, middle-aged vanity and all the rest of it.
But it was great. It was very funny, and people have been really nice. And my buddies back in Ottawa are just having a whale of a time. I'm playing in an event tomorrow, and they've been all over it. You know, "PGA nap-and-snack celebrity Andy McWilliams is teeing off at 12, and he'll be available for autographs from 11 onwards."
Tell me about your business, I think we owe you that much.
I own Celtic Golf Centres. I started off building simulators and then last year I opened up my own indoor space. It's Irish, Scottish, Welsh golf themed. And we all dislike the English, for obvious reasons. People say, why do you hate the English? And I say, "It's kind of childish, just 2,000 years of oppression. Nothing serious, you know?" But we've got places for a Trackman, I run leagues, I give lessons, and have a bit of fun with it. It's pictures of all the old-school guys like Woozy, Faldo, Lyle, my absolute hero Seve, you know. There's one picture of Seve playing Curtis Strange in the Ryder Cup, that's the only American there. So everyone's like, why is it not more North American?
And I say, "Because I'm not North American, you idiot."
Where is Scott Van Pelt? He said on the air he'd take me for a garbage plate. I haven't heard anything from him on social media. You gotta wonder about it, you know?
We'll tag him when we put this up.