Sending a sign
PGA Championship 2023: Bryson DeChambeau breaking out a USA Ryder Cup umbrella could be Bryson at his trolling best
Wishful thinking or new reality? There were plenty of "Bryson is back!" headlines—including one from this website—after his opening-round 66 was good enough to claim the first-round lead at the 2023 PGA Championship. And it had been a while since DeChambeau had showed that moxey on the golf course, another new body transformation finally yielding results for the former U.S. Open champion turned LIV Golf member.
Yet during the second round Friday at Oak Hill, amid intermittent rain and wind gusts, DeChambeau came back to earth a bit, going three over for his first six holes. Mind you birdies are hard to come by, so we aren't saying DeChambeau isn't going to play a part down the stretch in Rochester, N.Y., but his role just might not be as big as it was in the opening act.
What isn't a fluke, however, is DeChambeau's ability to goad the golf public, perhaps unintentionally—or maybe with a purposeful wink. This time it was on the sixth hole. As the rain was falling, DeChambeau understandably broke out an umbrella ... but not just any umbrealla.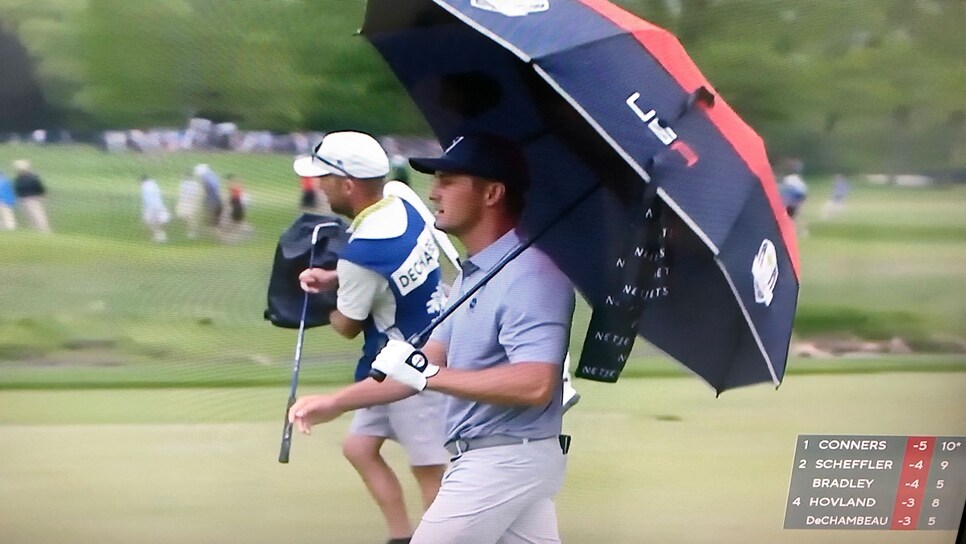 Yep, a Team USA Ryder Cup umbrella.
DeChambeau was proud member of the winning U.S. side at Whistling Straits, playing nice with then rival Brooks Koepka as the U.S. blew out the Europeans in 2021. Less than a year later, DeChambeau jumped to the LIV Tour, accepting millions in guaranteed dollars in exchange for likely never representing the red, white and blue again.
That said, 2023 U.S. Ryder Cup captain Zach Johnson didn't close the door entire on LIV golfers playing this September in Rome, although their only likely way to make it is via a captain's pick. So maybe DeChambeau was just sending a message to ZJ, letting him know he'd be open to coming back to the fold later this year. (If his game is back in shape, of course.)
Or maybe he was just giving everybody a good laugh.
MORE FROM GOLF DIGEST @ THE PGA CHAMPIONSHIP