Eavesdropping
PGA Championship 2023: Overheard in the gallery at Oak Hill this week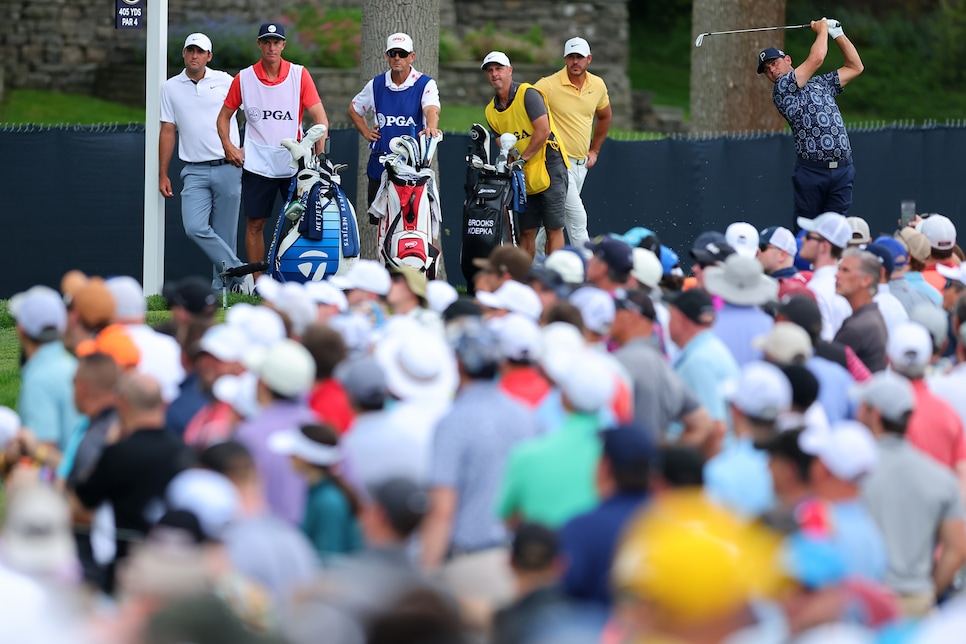 ROCHESTER, N.Y. — A May PGA Championship in Western New York guarantees two things: Rowdy crowds and questionable weather. Walking the grounds of the redesigned Oak Hill Country Club is a joy for any golf fan, and it's also a golden opportunity to eavesdrop on spectator chatter.
Below are some of the odd exchanges we overheard in the gallery during the first two rounds.
Guy points to a player in the bunker on the 18th hole. "Look babe, it's Viktor Hovland." It was Robert MacIntyre.
Two guys chatting over how hard the bunkers are at Oak Hill Country Club. "Dude, I think I'd have to use my 60-degree wedge in those. "I'd need a f***in shovel," said the other.
On the par-5 13th green, a long par-5, the pin position was tucked short left for the opening round. Luke Donald hit his approach shot to about five feet, spun too much, and rolled to about 20 feet short. "These greens are gnarly, it's like playing Plinko," one guy said.
Fan reacting to a sequence of players hitting a series of greens in regulation. "If everything lands on the green, it's boring, I want to see them get up and down like we do."
Guy 1: "That's Jason Day on the left…"
Guy 2: "No he pulled out"…
Guy 1: "Huh?"
Guy 2: "Oh no, that was John Daly."
"I see Bryson's still using those goofy irons."
"Man, we need to get some service so we can get involved with live betting."
"That Sahith Theegala, he's a lovely man isn't he?"
"That guy looks familiar, is it Stewart Cink or Matt Kuchar?" It was Jim "Bones" Mackay.
Standing by the driving range and Phil Mickelson's name pops up on the huge screen to the left. A man says to his friends."Phil Mickelson portrays himself as a good guy, but he's definitely a f****n douche."
As Rory McIlroy was pounding drives on the driving range, they had shot tracer on each one he hit. A fan turns to his friend and says: "I would do absolutely anything to have a swing like Rory."

After carding a second-round 72, Mickelson was walking over the cross bridge from the clubhouse to the driving range, and a couple of fans look up at him, and one of them says: "What happened to Phil Mickelson?! He's lost so much weight."